FOR BEST VIEWING, PLEASE CONSIDER USING A COMPUTER
(INSTEAD OF A MOBILE DEVICE)
TO VIEW THIS SITE......THANKS!

Phone: 913-488-1326 Email: abillquist@netzero.net

Welcome to LeopardMagic Bengals! We are located near Kansas City, KS (only 7 miles from the Kansas Speedway) on a small 5-acre hobby farm. We are TICA (The International Cat Association) Registered Bengal Breeders. We are a small cattery raising only TICA Registered Bengals, and just a few litters per year. We strive for healthy, happy, adorable Bengal kittens who meet the breed standard and are very well socialized. Almost all of our kittens are sold with contracts as pets only, and will need to be spayed/neutered before the age of 6 months. Feel free to call or email me with any questions!

- Amber Billquist, LeopardMagic TICA Bengal Breeder


Below are 2 maps showing our location 7 miles west of Kansas City, KS.

Above is a slightly-outdated picture of many of our supplies to show some of what is involved in raising these babies in a healthy way. I have changed some things. The dry cat food, which I free-feed to all of my Bengals, (photo needs updating) is now a mix of 25% Purina Pro Plan Kitten (pictured, this is the cat's favorite dry food based on a taste test I conducted, and is also the most expensive), 25% Iams Pro Active Health Kitten (pictured), 25% Taste of the Wild Canyon River Feline (Grain Free, not pictured), and 25% Mazuri Exotic Feline (what zoos feed, not pictured). The first two have chicken as the first ingredient, the third is grain-free, and the fourth is what many zoos feed their various animals. (There are about 70 completely different varieties of Mazuri dry foods!). All four of the dry foods I use are formulated differently, and I think getting this good mix is superior to relying on only (any) one formulation. The wet canned cat food is Friskies Savory Shreds with Gravy, which all the cats love. On Sept.1, 2013, after MUCH research, and investing in a high-quality Weston #12 commercial-grade grinder, I began feeding all my bengals one meal of Homemade RAW Chicken thighs (with bones) plus organs (with supplements added) a day, which really is the best possible food for cats, who are obligate carnivores (strict meat-eaters). If you spend much time researching cat nutrition, you will discover that even the cheapest wet food is still much better than the "best" dry food (for many reasons, but most importantly: way too many carbs (cats are only supposed to have 2-3% carbohydrates and dry food is frequently above 40% carbs!) and way too little water in dry food), but the absolute best we can do for our cat's health is using a good recipe and making our own wet food from raw meat. Several books and many websites and articles have already been written by experts in cat nutrition, so I will not attempt to go into depth about it here, but here is one link to a very informative and in-depth veterinarian-authored website about cat nutrition which includes a recipe for preparing homemade cat food. On this website, Dr. Pierson also explains why dry food as a main food source for cats (and even dogs) is so bad: http://www.catinfo.org/?link=makingcatfood. I choose to go ahead and always have dry food available in gravity-fed hopper-style feeders for all of my bengals (and my dogs, too) simply because I can't stand the thought of any of my animals getting hungry at all between wet meals, but the vast majority of their food is homemade raw chicken blend in the morning and wet canned food in the evening.
The stack of purple items are Litter Genie Refills for the 3 white Litter Genie's shown, but I no longer use Litter Genies. The small box with gold lid in the center is a pack of 4-way feline vaccines (which are out of the refrigerator only for this photo). And, of course, there is lots and lots of cat litter! The inexpensive Special Kitty Non-Clumping Clay litter is what I use for the kittens only from the time they start walking until about 6 weeks, since I don't want them to choke on clumping litter if they try to taste it. After that, they begin using Litter Clean Scoopable cat litter from Sam's Club. I used to use the Tidy Cats Instant Action which is pictured, but the Litter Clean is the same high quality, but less expensive, so I switched. I will try to update this picture soon. Not pictured: Toys, beds, cat trees, window beds, water fountains, Pet Key Microchips, Revolution flea prevention and de-wormer, vitamins, treats, etc.
Please call or email me with any questions: 913-488-1326 or leopardmagicbengals@gmail.com. (or abillquist@netzero.net)

It will be the responsibility of the new kitten owners to get their kitten spayed/neutered before the kitten reaches
the age of 6 months, as the buyer contract states, as most of these kittens are for pets only, not for breeding.

Airline shipping is available for an additional charge from Kansas City International airport.

"This cattery has NOT been inspected by and is not endorsed by The International Cat Association, Inc.", but is registered with TICA and is currently
(as of December 2013) the only TICA Registered Bengal breeder in the states of Kansas and Arkansas who has agreed to adhere to the
voluntary TICA Code of Ethics. To confirm this, please visit www.tica.org, select "Find a Breeder" (on left side of homepage), then click on the photo of the Bengal (in 3rd row) to see the list of Bengal breeders by state. My cattery is LeopardMagic in Kansas.


TICA Code of Ethics:

I am a member in good standing of The International Cat Association (TICA) and have a TICA registered cattery.
I will breed discriminately, and only if I can find appropriate homes for my kittens.
I will place kittens only in homes that I believe will provide a life-long commitment of love, appreciation, and responsible care.
Any kitten or cat sold as a pet/companion will be sold under the following conditions:
•
I will guarantee that the kitten/cat is in good health at the time of sale.
•
I will urge the purchaser to have the kitten/cat examined by the purchaser's own veterinarian within a few days of purchase to confirm its good health.
•
I will require that the kitten be spayed or neutered NO LATER THAN 12 months of age and not be allowed to produce any offspring.
•
I will explain to the purchaser the dangers of an outdoor environment.
•
I will provide a written sales agreement that describes all the terms of the sale. I will abide by my own sales agreement.
•
I will provide the TICA registration application form and/or pedigree for the kitten/cat ONLY after I have received written evidence from a licensed veterinarian that the kitten/cat has been altered.
•
I will encourage the purchaser to contact me if the purchaser has any questions and I will respond in a timely manner.
•
I will not release a kitten until it has been inoculated at least twice against the following: Panleukopenia, Feline Rhinotracheitis, and Calicivirus. I also may choose to give other vaccinations.
I have read and agree to abide by the above Voluntary Code of Ethics.
Below are my "New Visitor" Counters which I just added on October 28th, 2013.
Visitors are only counted on their 1st visit.
It's fun to see where people who look at my website are located, even in other countries!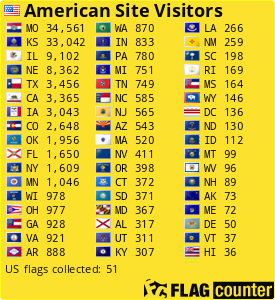 Codes for Other Countries on World Visitor Counter:
DE = Germany (Deutschland) CN = China
CA = Canada AU = Australia
ZA = South Africa FR = France
IN = India QA = Qatar
IL = Israel ES = Spain (Espana)
IT = Italy UA = Ukraine